Advancing learner involvement

It is our intent on advancing learner involvement across all our learning activities, as we believe this will enrich and make a more rounded learning experience.
Our Learner Involvement Strategy has essential factors that contribute to the academic achievement and to the potential economic strengths of the organisation, in terms of increased achievement and progression rates, participation and retention.
Our Learner involvement Strategy is implemented at board level and is supported by additional policies that provide for an organisation-wide integrated approach to learner involvement.
The Learner Journey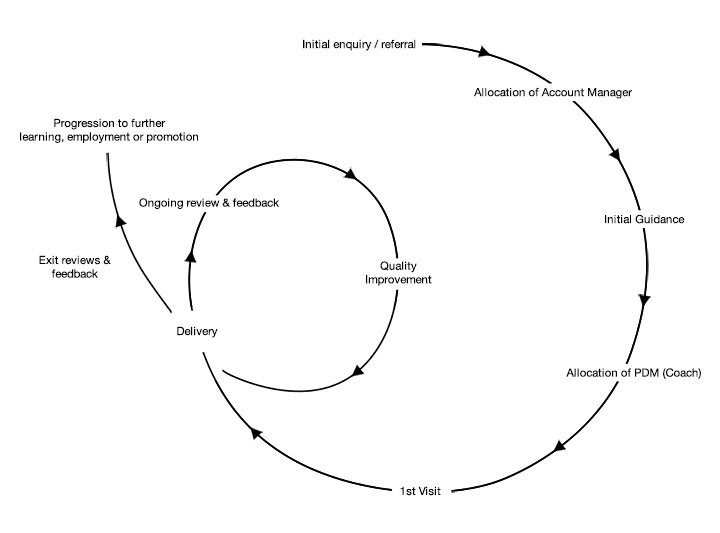 Commitment to Learner Involvement
We firmly believe that excellence will be achieved through recognising the value of involvement from every individual learner. We aim to create an environment that respects the voice of learners and clients which will enable them to achieve their full potential: to contribute fully and to drive maximum benefit from their involvement with t2 group.
To this end, the organisation acknowledges the following basic rights for all learners and clients:
To be treated with respect
To be treated fairly
To receive encouragement to reach their full potential
Responsibility

The Board has overall responsibility for ensuring that we operate within a framework of involvement for all learners and clients.
We recognise that all of our staff, have a duty to support and uphold the principles contained within this policy and supporting policies. The commitment of all staff, learners and clients is required to make the policy a success.
Implementation
The Learner Involvement Strategy is implemented through those policies which relate to the involvement of all learners, in particular:
Initial Guidance Procedure
1st Visit Procedure
Learner Feedback Procedure
Workshop Evaluation
Learners also have a voice in:
The dedicated section on the company website - Your Voice Counts
The assessment planning cycle
The mandatory discussion in the management suite of QCFs
View the t2 group complaints procedure.
Review

The Learner Involvement Strategy will be reviewed in line with our Quality Cycle, Self-Assessment Review and Quality Improvement Plan.
Contact us

If you have any questions or require any help please don't hesitate to get in touch with us at t2 group. Simply complete the following form and we will be in touch with you shortly.
t2 group
t2 group
Head Office - Melrose Hall, Cypress Drive,
St Mellons, Cardiff, CF3 0EG.
029 2079 9133
Legal information
Quick links
Gender pay gap report

View our latest gender pay gap report here.
Report a Safeguarding Concern

Need to report a Safeguarding concern? Click here.
↑