---
This section of our website aims to give employers, partners all the advice and guidance they need whilst they are working with t2 group.
It's also here to give you the opportunity to improve our services.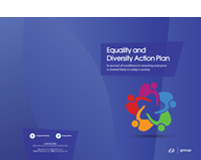 Click here for Our Equality and Diversity Action Plan
Click here to view our Equality and Diversity Calendar
Equality and Diversity
The Equality and Diversity section of the site is a resource for those both internal and external to t2. It aims to give details about what Equality and Diversity means and help you think about your attitudes to others and your ideas of people you meet. We would like you to also think about the attitudes of others around you.
We also aim to let you know what the law says, and what you can do to help yourself and others and be fair to everyone.
We hope that having looked through this part of our website, you will feel that you have more of an understanding of what Equality and Diversity is all about.
Equality and Diversity Strategy
t2 group is committed to creating an environment where there is mutual respect and equality of opportunity.
Our aim is to create an environment in which people treat each other with mutual respect, regardless of: age, disability, family responsibility, marital status, race, colour, ethnicity, nationality, religion or belief, gender identity, transgender, sexual orientation, trade union activity or unrelated criminal convictions.
Download a copy of our Equality and Diversity Policy
Equality Act 2010
The Equality Act 2010 is the law which bans unfair treatment and helps achieve equal opportunities in the workplace and in wider society.
What´s included in the Equality Act?
The act replaced previous anti-discrimination laws with a single act to make the law simpler and to remove inconsistencies. This makes the law easier for people to understand and comply with. The act also strengthened protection in some situations.
The act covers nine protected characteristics, which cannot be used as a reason to treat people unfairly. Every person has one or more of the protected characteristics, so the act protects everyone against unfair treatment. The protected characteristics are:
Age
Disability
Gender reassignment
Marriage or civil partnership
Pregnancy and maternity
Race
Religion or belief
Sex
Sexual orientation
The Equality Act sets out the different ways in which it is unlawful to treat someone, such as direct and indirect discrimination, harassment, victimisation and failing to make a reasonable adjustment for a disabled person.
The act prohibits unfair treatment in the workplace, when providing goods, facilities and services, when exercising public functions, in the disposal and management of premises, in education and by associations (such as private clubs).
If you have any queries regarding this part of our website please let us know by emailing: equalityanddiversity@t2group.co.uk
General guidance on the Equality Act
The Equality Act - Explanatory Notes
---
To view our Best Practice for Employers Recruiting and
Developing an Apprentice Guide click here
---