Date posted: 10/02/2021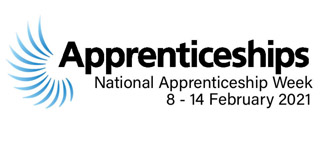 National Apprenticeship Week 8-14 Feb 2021: Building future leaders
The theme of this year's National Apprenticeship Week is 'Build the Future.' While the aim is rightly to promote the benefits and long-term gains of employing young people into a variety of apprenticeships to 'Build the Future', it is also true that existing managers are building the future, and must continue to do so, however uncertain that future might appear right now.
If you're part of a management team within an organisation, you'll be responsible for building a team that can help the business meet its strategic objectives.
You'll want to hire the right talent and particularly you'll want to develop your existing team members to bring specific skills to bear on those objectives. Those at senior levels of an organisation have a huge amount of input and responsibility when it comes to 'building the future' of the organisation.
Read the full article here